Reliance Jio now offers 10 GB data, Dial 1299 and get 10GB free data
Reliance Jio is now offering additional 10 GB data to select users. One of our team members has already received the offer, so we can confirm the same too.
The add-on benefit is available till 30 March 2018, which is a day before when Jio's timeline for Prime subscription ends.
Curiously, you can even enjoy the additional data even if your current plan has expired (which has happened in our case, see screenshot below but ofcourse that is probably because we have the prime subscription).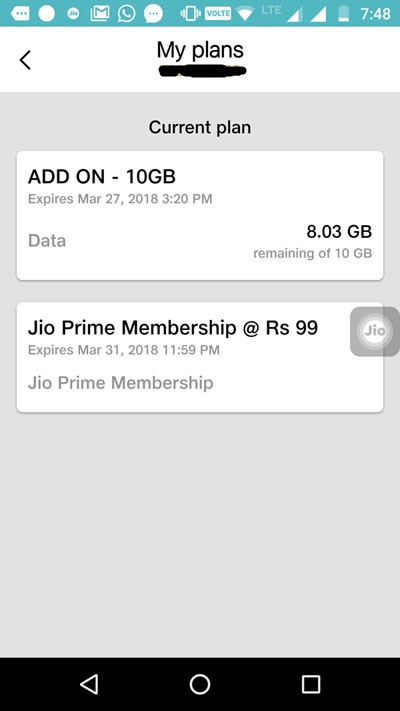 Jio has been doling out freebies to its users every now and then. It was recently offering up to Rs 799 cashback on recharge of Rs 398 and above. Currently it has the cheapest plans. And we wouldn't be surprised to see it roll out Prime like offers post March 30 to keep its users who had enrolled for Jio Prime.
The company is also offering over Rs 400 cashback on recharges over Rs 399. Plus, it has tie up with many wallet service providers like Paytm, Freecharge, Mobikwik etc who too are offering cashback on different recharges.
Reliance Jio is known for its freebies and cheap tariff plans. To celebrate the festival of Holi, it looks like the service provider has come up with an offer. Going by the tweets posted by several Jio subscribers, the telco is offering free 10GB of data for select customers. This 10GB of data is said to be valid until March 27, 2018.
As mentioned earlier, many Jio subscribers have taken to Twitter to post that the free add-on will give 10GB of data for free. It is said that users need to give a call to the toll-free number 1299 to receive the 10GB data add-on pack.
Where to check?
The data balance can be checked from the MyJio app. Open the MyJio app on your smartphone and go to the My Plans section from the menu. Over here, you can see the 10GB data add-on. Once you start using the free data, you can see the balance from the MyJio app itself.
Existing Add-on
Usually, Jio offers Rs. 101 data add-on pack that gives 6GB 4G data and this has to be purchased separately in addition to the existing tariff plan. The data add-on packs are meant for those subscribers who consume a lot of data. With the free 10GB add-on pack, users who end up exhausting the daily FUP can use the free data without paying any additional charges. Basically, you can use this 10GB data only after crossing the daily data FUP as per your plan.
Dial the toll-free
Though this 10GB free data add-on is a great offer from Reliance Jio, it is not applicable to all users. Those who haven't received the free data can dial the toll-free number 1299 to get 10GB data for free and enjoy using it until March 27 without any concerns of exhausting the daily limit. Do dial this number from your Jio number and let us know if you have received the free add-on pack.
Reliance Jio is banking on freebies
Earlier today, we came across a report that the JioFi buyers who purchase the hotspot device for Rs. 1,999 will get free data and vouchers worth Rs. 3,595.
Source by:- gizbot
Share: